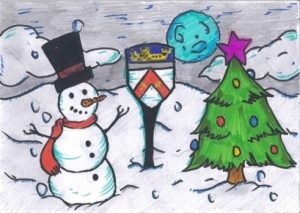 Tim's Gift
"I have always thought of Christmas time, when it has come round… as a good time: a kind, forgiving, charitable, pleasant time: the only time I know of, in the long calendar of the year, when men and women seem by one consent to open their shut-up hearts freely…"
Charles Dickens, A Christmas Carol
When we think of poverty at Christmas, we tend to recall Dickens' classic A Christmas Carol, as something abstract and of the past; a fable of Victorian times. Unfortunately, at this time of year, even as we approach a new decade, we still have families who face a daily struggle against hunger and cold. Here in Thanet, we have an overwhelming amount of families of children who, living in poverty, are facing a Christmas that is far-removed from the time of joy and celebration it should be. Here at Hartsdown Academy, proudly serving the community of Thanet, we are saying no to poverty this Christmas. No to hunger. No to cold. Every child deserves a happy Christmas. With your help, they can have one.
The idea of 'service' is core to our school and a key part of our curriculum. We challenge our children to think beyond themselves through giving their time to help others, for example: litter picking, hearing children read or being an anti-bullying ambassador. Part of this is supporting charities, like Tim's Gift.
Working with Tim's Gift, staff and students at Hartsdown will be making and distributing hampers filled with food, toiletries and gifts to as many families as possible who need it in the hope that they can experience Christmas as it should be – free from worry and fear, and filled with happiness and love.
Here is how you can help:
To give a monetary gift, visit our JustGiving page here:
https://www.justgiving.com/crowdfunding/timsgift?utm_term=v7PxDpxqB
To make a physical donation, simply drop it into reception at:
Hartsdown Academy
George V Avenue
Margate
Kent
CT9 5RE
If you are a business, or want to discuss a donation, please email head@hartsdown.org
Share, donate and together, let's ensure that all of our families and children in Thanet can enjoy Christmas as it is meant to be.
Thank you and Merry Christmas to all of you, from all of us at Hartsdown Academy.