On the 3rd of November, as part of the school's STEM initiative to engage students in the possibilities available to them in the technology and engineering sectors, 13 Hartsdown Academy year 8 students took the short trip to King Ethelbert School to take part in a 'Faraday Challenge'.
The event is run by the Institute of Engineering and Technology and gives the students the opportunity to research, design and make prototype solutions to genuinely tough engineer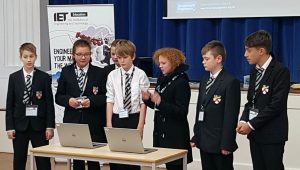 ing problems.
Throughout the day the students were required to use their imagination and ingenuity to tackle a series of challenges.  Our year 8 students were a great credit to Hartsdown Academy, taking on the challenge with a positive attitude and working fantastically well as a team throughout the day.
At the end of the day students had to present their ideas to the other contestants and the judges, a daunting task but one which our students rose to with aplomb with.
The STEM professional running the day complimented them on their ideas and teamwork and the feedback from students was very positive with many students noting that they are now more likely to pursue a career in engineering.