Congratulations to all students and staff at Hartsdown. We have been granted the National Award for excellence in Bullying Intervention.
The BIG AWARD is given for excellence in bullying intervention. It is offered to schools, services, groups or Local Authorities. Members work to meet the externally agreed criteria to be awarded.The criteria are carefully managed to suit the needs of different organisations. Portfolios are submitted annually for assessment and policies are checked.
This award is both earned and evidenced in a portfolio.
When your portfolio is assessed for the BIG Award, they look for:
1)         A Bullying Intervention Focus Group
2)         A robust Anti Bullying Policy
3)         Regular Staff Training
4)         Involvement of parents and carers
5)         Pupils' peer support or mentoring system
6)         Regular awareness-raising activities
7)         Testimonial from a young person
8)         Recording and monitoring of bullying incidents
'Hartsdown Academy is an inclusive and caring school where the staff believe that bullying should not be tolerated.  There are a number of excellent strategies to support this including; staff training, monitoring and recording of any incidents of bullying, a peer support scheme, an anti-bullying focus group and most importantly, an excellent and robust anti-bullying policy.  Bullying can happen anywhere, but both the students and staff at this school work so hard to ensure that everyone can learn and socialise without fear of intimidation.  I am delighted to award Hartsdown Academy with the BIG Award for Excellence in Challenging Bullying.'  Val McFarlane, Director, Bullying Intervention Group.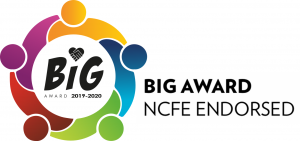 For more information please on the Big Award click here